Hello, everybody, ready to play?
Here are rules:
1. What you have to do, is give a colours to the black and white mini kit provided
You can add you items to the mini kit, but they have to be created by yourself!!!
2.You can show me final result by making lay-out or mini kit preview - whatever you want!
Remember, free mini kit is for your personal use only, if you want to share it you have to buy it as commercial use set!
3. When finished, add your lay-out or preview to The Give it a Color Challenge Gallery.
And come back to this forum to post a link to the gallery,
so we can all ooh-and-aah over what you've made!
3. For this challenge you get 1 Bird Point.
And here is preview what I prepared for you for february: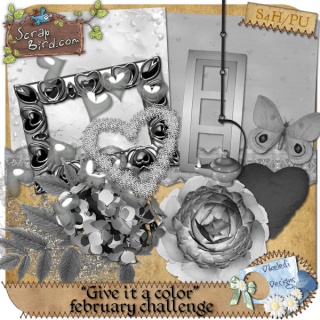 ou can grab it here:
CLICK!!!
So - wish you a lot of fun!
Just cannot wait to see results of your work!